The Effect Of Motor Response and Motor Anticipation Exercises according to Auditory – visual – sensory System On The Level of Performing Some Basic Skills In Volleyball
Keywords:
auditory, sensory, visual systems, motor anticipation, motor response, neurology linguistics programming
Abstract
The research aimed at designing special exercises for motor response and anticipation according to auditory – sensory – sensory systems as well as identifying the best system that suits these exercises. The researchers used the experimental method on (25) players aged 14 – 16 years old from the national center for gifted in in volleyball divided according the three systems. The results showed a great development in the speed of motor anticipation and motor response regardless of the systems. The results also showed the great role on the accuracy of skill performance and decreasing response time and anticipation that led to a positive development in players' level of skill performance.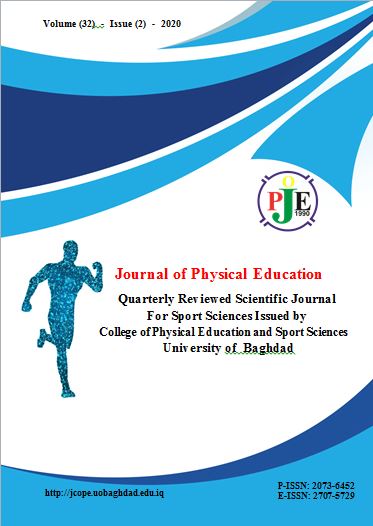 How to Cite
1.
Mohammed L. The Effect Of Motor Response and Motor Anticipation Exercises according to Auditory – visual – sensory System On The Level of Performing Some Basic Skills In Volleyball. jope [Internet]. 6Aug.2020 [cited 26Nov.2020];32(2):120-9. Available from: http://jcope.uobaghdad.edu.iq/index.php/jcope/article/view/1003