A comprehensive quality relationship of the organizational climate of school sports activities from the point of view of sports education teachers in Baghdad
Keywords:
Comprehensive quality, Organizational system, School sports activities, Sports administration, Sports education teacher
Abstract
The importance of research in highlighting the comprehensive quality management of school sports activities in the directorates of the Ministry of Education and its relationship with the organizational system in the establishment of school sports activities as well as the availability of a suitable situation for sports education teachers by applying the principles of comprehensive quality. The research aimed to identify the relationship between the comprehensive quality and the organizational system of school sports activities in the directorates of education in Baghdad. The descriptive curriculum was used in surveying and associative relationships. The research was applied on the subject of (480) teachers of physical education about (22.92%)of the total research community of 2,094) distributed to six education directorates in Baghdad governorate, of which 300 were teachers to measure a GQM and 180 were teachers to apply a GQM and organizational system to extract the relationship between the two measurements The comprehensive quality scale prepared by the researchers was used and is finalized from (41) parts divided into (8) fields. The scientific bases of the scale were made from a distinctive, truthful, consistent and objective capacity, in addition to the organizational system scale from (64) parts divided into (7) fields. The researchers concluded that whenever comprehensive quality was applied and the availability of an organizational system for the establishment of school sports activities. The researchers recommend that attention be paid to the comprehensive quality management by the higher management of the Ministry of Education and the Department of Sports Education and School Activity and focus on the development of the organizational system within schools which is the factor to organize the school sports activities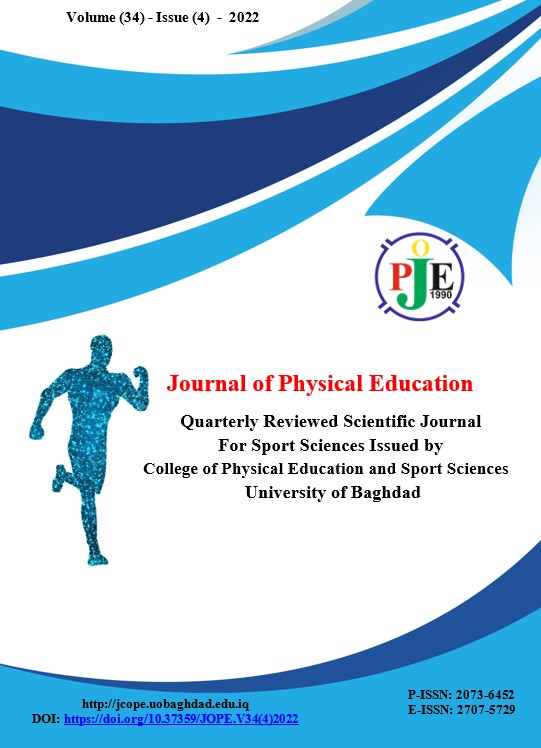 How to Cite
1.
Ayad I, Dawood T. A comprehensive quality relationship of the organizational climate of school sports activities from the point of view of sports education teachers in Baghdad. jope [Internet]. 2022 Dec. 28 [cited 2023 Mar. 27];34(4):465-79. Available from: https://jcope.uobaghdad.edu.iq/index.php/jcope/article/view/1331