An Analysis of some motor variables of butterfly stroke and their relationship to success in the 50-meter butterfly race for national team swimmers (candidate category)
Keywords:
Kinematic variables, butterfly swimming, motor analysis, 50m swimming , accomplishment
Abstract
The importance of research lies in studying the movement of arms and the kick of legs by noticing their impact on performance between a swimmer and another. The problem of research has evolved in the differences between the level of development of Iraqi and the Arab level in general swimming and especially in butterfly swimming, it still does not keep pace with the level of digital achievement. The study aimed to analyses butterfly swimming in relation to the achievement of (50) m in order to reach positive results that could contribute to breaking Iraq's figures in the future. The researchers used the descriptive approach in a comparative manner. The subject of the research consisted of (3) swimmers from the category of applicants from Iraq's national team. They were tested by performing a butterfly 50-metre race for each individual swimmer, excluding the starting distance of 15 meters and applied the distance of 30 meters as the actual performance of the butterfly swimming technique, The researchers recommended paying attention to how the arms movements and the kick of the legs in the butterfly swimming technique, therefore, to their active influence as driving forces for swimming at various swimming events. The world figures are constantly evolving. The few seconds of professional performance can be the main role of winning competitions and making similar research to reduce race performance time and break Iraqi records.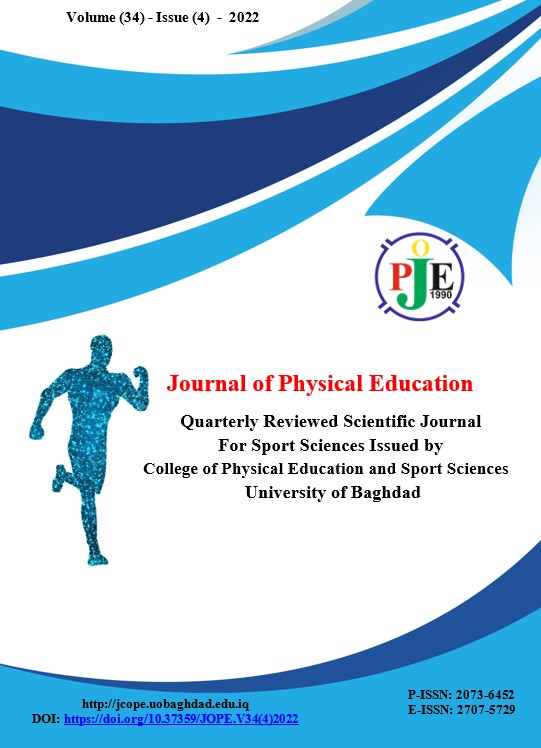 How to Cite
1.
Qusay W, Faris L. An Analysis of some motor variables of butterfly stroke and their relationship to success in the 50-meter butterfly race for national team swimmers (candidate category). jope [Internet]. 2022 Dec. 28 [cited 2023 Apr. 2];34(4):451-64. Available from: https://jcope.uobaghdad.edu.iq/index.php/jcope/article/view/1364