The Effect of Fartlik And Hill Style (Consequence & Intermitted) Using Treadmill For Developing Leg Muscular Strength and 400m Running achievement In Physically Disabled (46 – 47)
Keywords:
intermitted, sequence, fartlek, hill, endurance and disability.
Abstract
The research aimed at designing exercises using Fartlik and Hill training using Treadmill as well as identifying the effect of these styles on developing leg muscular strength and 400m achievement for physically disabled (46 – 47). The researchers used the experimental method on (6) physically disabled 400m runners from the Athletics National League (2018 – 2019). The subjects were divided into two groups; the first group followed fartlik and hill training (consequence) while the second group followed fartlek and hill training intermitted style. The training program consisted of 16 training sessions. The data was collected and treated using SPSS to conclude that fartlek and hill training using treadmill have a positive effect on the endurance of  muscular transitional strength and also a positive effect on achieving 400m running in favor of fartlek and hill training using intermitted style. Finally the researchers recommended the necessity of coaches' awareness about modern training styles and technologies as well as holding training courses by the Paralympic committee to keep the coaches updated due to their great role in developing abilities and achievement.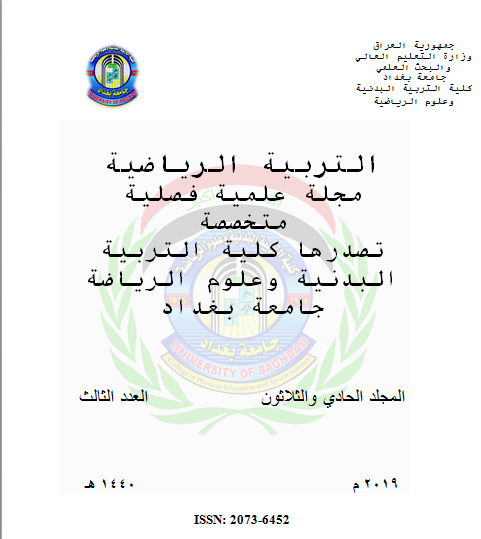 Downloads
How to Cite
1.
طاهر الديوان وث, زعون الخزرجي اعا. The Effect of Fartlik And Hill Style (Consequence & Intermitted) Using Treadmill For Developing Leg Muscular Strength and 400m Running achievement In Physically Disabled (46 – 47). jope [Internet]. 2020 Jan. 31 [cited 2021 Nov. 29];31(3):258-66. Available from: https://jcope.uobaghdad.edu.iq/index.php/jcope/article/view/882